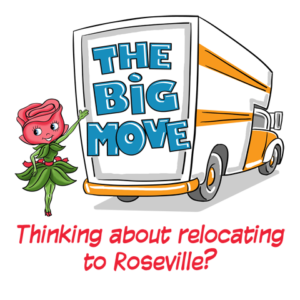 Roseville is a spectacular place to live, work and play!  The city offers an abundance of shopping, dining, art galleries, indoor and outdoor entertainment, churches and religious organizations.  Residents also value the availability of personalized city and county services, beautiful neighborhoods and fantastic job opportunities.  These exceptional amenities provide value for every resident.
Families enjoy the excellent public-school system, which ranks nine out of ten on Great Schools.org.  Residents can also take advantage of the area's unique educational facilities.  The Roseville Utility Exploration Center provides access to computers and science technology outside the classroom.  The Maidu Interpretive Museum offers recreational and educational opportunities year-round for youths, adults and seniors with old-fashioned campfires under the stars, a speaker series, arts and crafts and guided nature walks through the Maidu Indian Historic Site.
Available housing ranges from historic Victorian neighborhoods to fabulous master-planned golf communities, as well as thoughtfully designed communities for 55+ seniors.  Amenities include over 1,200 acres of beautifully preserved open space replete with extensive bike trails, sixty outstanding community and neighborhood parks, a world class aquatic facility complete with Olympic-sized swimming pool, top-rated golf courses, batting cages, a skate board park and an indoor driving range.  Additional entertainment options include two live theaters, 26 movie screens, over 175 restaurants, several art galleries and Golfland-Sunsplash.  With all these benefits, it's easy to see why so many people choose to live here. 
Roseville enjoys a robust economy partly because it is a regional shopping destination.  The Westfield Galleria is the largest mall in the city with over 230 stores and the second largest in Northern California.  Another mall, The Fountains at Roseville, has a unique collection of over forty high-end stores.  There are many other smaller malls in the city which make shopping convenient.  Additionally, the Roseville Auto Mall, one of the largest in the nation, attracts car shoppers from all over Northern California.  
The strength and balance of Roseville's diverse economy allows the city to thrive.  In fact, the city boasts a labor force of more than 54,000.  Job seekers can choose from many industries including high-tech, financial services, industrial, retail, fashion, restaurant and health care.  Top business employers within the city include Adventist Health, TASQ Technology, Consolidated Communications, Hewlett-Packard, Kaiser Foundation Hospitals, Sutter Roseville Medical Center, PRIDE Industries, and the Union Pacific Railroad.  Intel, Oracle, and Apple are in neighboring cities.
Roseville is a progressive city with an eye to the future while retaining and celebrating its rich historical railroad roots.  It is the largest city in Placer County and surrounded by the cities of Rocklin, Granite Bay, and Lincoln.  It is located at the eastern edge of the Sacramento Valley, at the base of the Sierra Nevada foothills and near the Folsom Lake Recreation Area.
It is only 18 miles from Sacramento, the state capital.  Typical of other California cities, Roseville's climate ranges from hot, dry summers to mild winters with little or no snow.  What started as a town developed by disappointed miner from the famed Gold Rush has blossomed into a carefully developed, independent city boasting an estimated population of 134,073 residents.  Come and explore the many sides of Roseville.
Rosie's Team is here to help.  If you would like to receive information about the availability of new or resale homes in Roseville or the cities around Roseville, please complete the information below.  Your privacy is of utmost importance to us.  Any information you provide will NEVER be shared or sold.