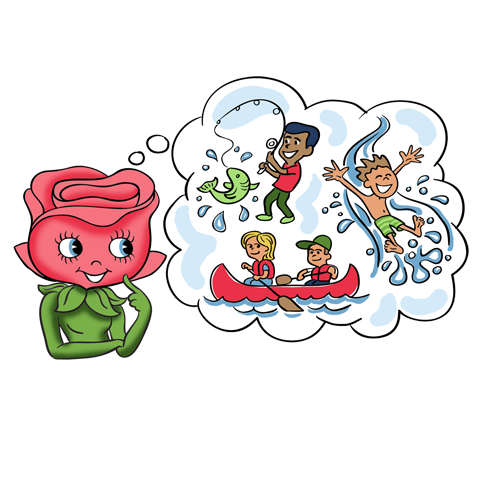 Water Activities
The lakes, reservoirs and rivers around Roseville offer a multitude of activities.  Folsom Lake is less than five miles from downtown Roseville and offers fishing, boating and swimming.  About 45 minutes away is Rollins Lake, a popular spot for waterskiing, house boating, fishing and swimming.  For the adventurist, Hell Hole Reservoir, offers 15 boat-in campsites and is an ideal location for fishing, canoeing and swimming.  One of the most exciting day trips in Placer County is whitewater rafting down the American River in the Auburn State Recreation Area.  Rosie's all-time favorite activity is a day at picturesque Lake Tahoe, boating, swimming, hiking and relaxing in the summer and skiing at one of the many world class ski resorts in the winter.
Two great places to beat the summer heat are right here in town.  The Roseville Aquatics Complex features a competition and lap pool along with recreational pool areas and amenities.  The facility has been a frequent host of area regional swimming competitions where a couple of champions have trained.  They are former world record holder in the 50-meter backstroke, Randall Bal of Fair Oaks and Summer Sanders of Granite Bay, who won four medals in the 1992 Olympic Games in Barcelona Spain.
Roseville's Golfland-SunSplash facility is Northern California's biggest and most thrilling waterpark.  Several adrenaline-pumping water slides will excite even the most extreme thrill seekers.  There's the Riptide, a toe curling 65ft drop loaded with dizzying turns.  The six shooter is a six lane slide where you can race with your friends.  The Double Dare is a seven story near vertical drop into clear blue water, to name a few.  There is also the Thunder Bay Wave pool where you can ride a gigantic 84-foot-wide Tsunami wave.  For a more relaxing ride you can grab a tube and enjoy the Bermuda Triangle for an easy river float past the slides and other activities.